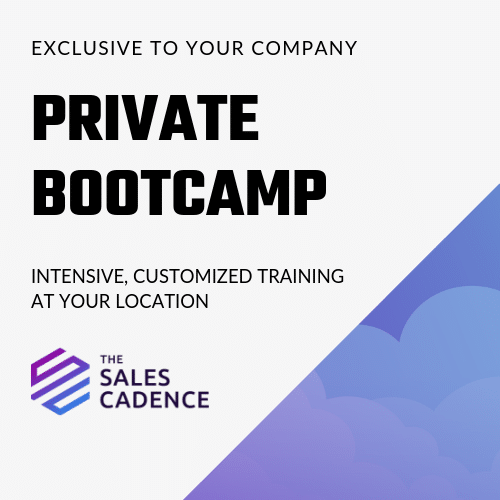 The Sales Cadence Private Bootcamp Agreement
The Sales Cadence Private Bootcamp will transform the way your organization approaches prospecting and demoing. Review the agreement below and submit to confirm your bootcamp.
The Sales Cadence Private Bootcamp will be held at the offices of your company, or a nearby location (such as a hotel conference room) as secured by you, the client. The Bootcamp will last one full day (8 am – 5 pm) and includes up to five (5) attendees from your company, with an additional fee for extra attendees. The location must have wifi/internet access and a projector.
All intellectual property shared at the Private Bootcamp (workbooks, playbooks) are included for internal use only. IP cannot be re-marketed, re-sold, or transferred to anyone outside of the full-time employees of your organization.
The cost of the Private Bootcamp is $24,995 for up to 5 attendees. Additional attendees are $995 per person. A 50% deposit is due immediately, and 50% upon completion of the Private Bootcamp. For pre-payment discount: $20,995 due immediately.
We only accept payments electronically, and all payments must occur on the billing dates specified. Late payment fees are 3% per month. As a reminder, if payments are not completed on the promised date, you run the risk of termination of all services rendered.
Our corporate name is Persuasion, Inc. Please bear in mind that the corporate name associated with all payments is Persuasion, Inc. and not The Sales Cadence.
Pay via wire transfer:
Account name: Persuasion, Inc.   |   Bank of America, 2 S. Michigan Avenue, Chicago, IL   |   312-580-1976
Account number: 291010204207   |   Routing number: 026009593
Pay via ACH transfer:
Account name: Persuasion, Inc.   |   Bank of America, 2 S. Michigan Avenue, Chicago, IL   |   312-580-1976
Account number: 291010204207   |   ACH electronic transfer number: 08190480